There is required information that must be filled out on
both sides
of the rebate form. The appearance of the rebate form may vary depending on the current promotion and may differ from the examples shown here.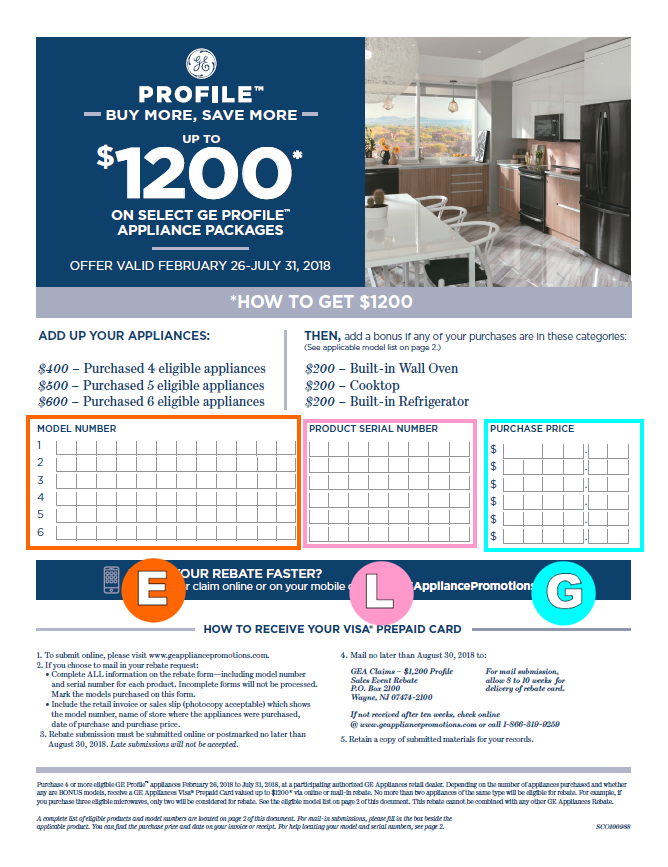 Required information includes the model numbers (E), serial numbers (L), and purchase price (G) for each eligible item purchased. Fill these out completely and legibly. If you need help locating your product serial numbers,
click here
for information.
The annotations on this example correspond to the locations noted on our example invoice. If you require more information or help understanding your sales invoice,
click here.
Your product serial numbers are
required
to complete the form. Do not mail the form without filling out
all
of your appliance's serial numbers in the spaces provided. It is normal to have some fields left over that correspond to products that you did not purchase, but ensure that
every
applicable product you purchased is represented on the form. Missing product serial numbers will result in rejection of your rebate.

Ensure that you have filled out all of the fields on the rebate form including your full contact information as it appears on your invoice, product serial numbers, and do not forget to sign and date at the bottom. Incomplete rebate forms will be rejected by the rebate provider.

The address you fill out must match the address printed on your invoice, either the "Bill To" (C) or "Ship To" (D) addresses. Do not use any other address. Do not use a PO box address. Mismatched, incomplete, or incorrect addresses will result in rejection or non-payment.
Fill out a copy of your actual rebate form, of the program appropriate for your purchase and product. Do not attempt to mail the example form on your screen. The example on your screen is not an exact copy of the appropriate rebate form and may represent and expired program or a different program than is appropriate for your product.